Dental Crowns & Bridges in Dumfries
Restore Broken & Missing Teeth With Crown and Bridges
If you have missing or damaged teeth, dental crowns and bridges may be the solution you need to restore your smile's function and beauty. We offer a range of restorative dental treatments, including crowns and bridges, to help you achieve optimal oral health and a confident smile.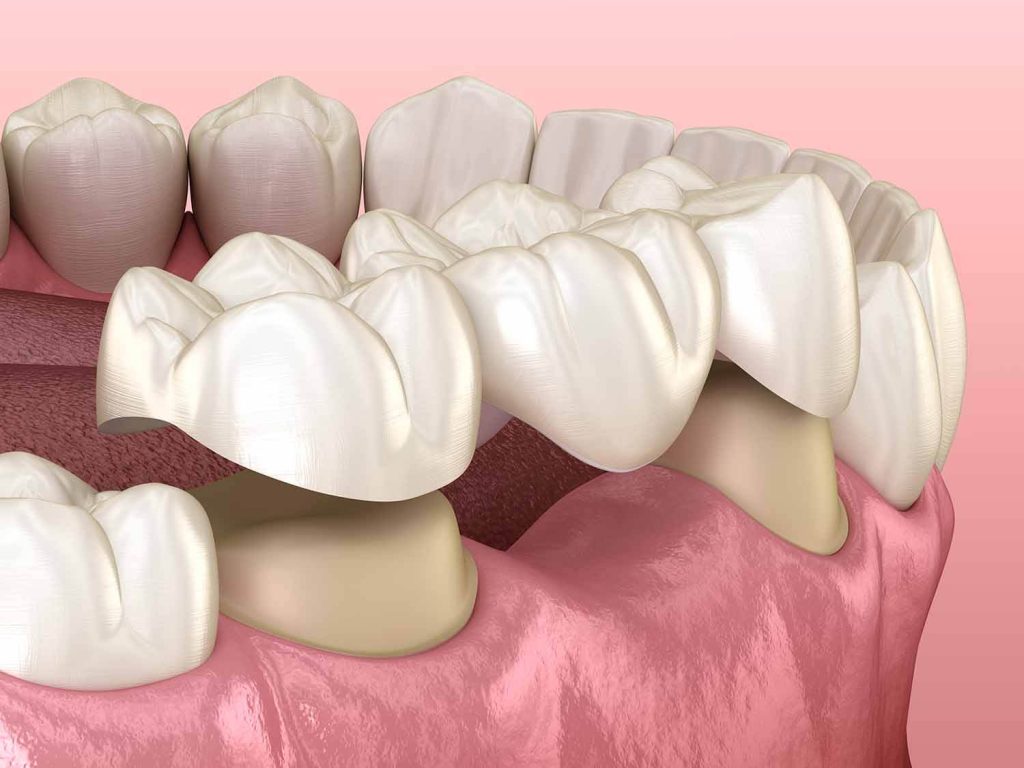 What are dental crowns and bridges?
Dental crowns and bridges are restorative dental treatments used to replace or repair damaged or missing teeth.
Crowns are typically used to cover a damaged or weakened tooth to restore its strength and appearance.
Bridges are used to replace one or more missing teeth, by attaching artificial teeth to the remaining healthy teeth on either side of the gap.
How do dental crowns and bridges work?
We offer custom-made dental crowns and bridges to repair and restore damaged or missing teeth. Crowns are carefully crafted to fit over weakened or damaged teeth, providing protection against further damage while restoring both the tooth's functionality and appearance. Bridges, on the other hand, are a long-lasting solution for missing teeth, anchored securely to the remaining healthy teeth on either side of the gap
Benefits of dental crowns and bridges
Advantages of Dental Crowns
Advantages of Dental Bridges
Protect and strengthen weakened or damaged teeth

Restore a tooth's natural shape and size

Improve the appearance of misshapen or discolored teeth

Offer a durable solution to teeth decay or damage

Require minimal maintenance and are easy to clean
Replace missing teeth to improve oral function and enhance appearance

Prevent remaining teeth from shifting out of position,leading to additional dental problems

Help maintain the shape of your face,preventing the appearance of sunken cheeks or other changes

Improve speech and chewing ability,enhancing quality of life

Customized to match the color and shape of your natural teeth,providing a natural-looking smile
Missing Teeth Solutions: Dental Bridges vs Implants
When it comes to replacing missing teeth, patients have two popular options: dental bridges and dental implants. A dental bridge involves using a false tooth (or teeth) to fill in a gap, and anchoring it to the adjacent healthy teeth. On the other hand, dental implants are surgically placed into the jawbone, and they fuse with the surrounding bone to create a stable foundation for an artificial tooth.
Both options have their unique advantages, and the right choice for you will depend on factors such as the number of missing teeth, the condition of surrounding teeth, and your budget. If you're looking for a Private dentist in Dumfries, dental bridges are generally less expensive and require less time for completion, while dental implants offer a longer lifespan and can prevent bone loss in the jaw.
Can replace one or more missing teeth with one restoration

Anchored to the remaining natural teeth on either side of the gap

Typically less expensive than implant options

Requires healthy natural teeth for support

May require replacement in 5-15 years

Can be completed in 2-3 visits

May need to be replaced if the supporting teeth become compromised

Can cause sensitivity in the supporting teeth
Can replace one or more missing teeth with individual implants

Requires a surgical procedure to place the implant into the jawbone

Cost may be higher than a bridge but offers a longer lifespan

Does not rely on adjacent teeth for support,preserving their natural structure

Can last a lifetime with proper care and maintenance

Can take several months to complete due to the healing process

Provides stability and prevents the remaining natural teeth from shifting

Preserves bone density in the jaw,preventing bone loss and preserving facial structure
Don't let price be a barrier from preventing you achieve the smile you've always wanted. We offer 0% Interest Free Finance available on all treatment plans above £700. We offer interest free finance on treatments for up to 12 months. Ask our team for more information.
Get an online consultation or visit our clinic.
Clinic Address
7 Great King St, Dumfries DG1 1BA, United Kingdom
Don't let damaged or missing teeth hold you back from smiling with confidence. Schedule your crown and bridge consultation with [Dental Practice Name] today and take the first step towards a healthier, more beautiful smile.
Get in touch with us today!